When your dreams become art
Custom digital portrait in a vibrant & positive style!
Have you always wanted to be drawn as a mermaid, a pirate, a certain character or maybe even with a lightsaber? Or perhaps you have your own character in mind that you want brought to life. It's ALL possible!
INCLUDES:



– 1 High Res Digital Drawing (3000 x 4200 pixels)
– Standard Delivery: 6-9 days (no fee)
-2 revisions
-1 progress video
ADDITIONAL:
– Priority Delivery: 3 days (+€15,- extra fee) 
Custom Positive Cartoon Portrait 
€ 50,-
I will create a custom portrait (cartoon style) of you or a person of your choice. The focus will be on your unique features in a positive and empowering way so you or the other can feel great about themselves! 
Custom Couples Cartoon Portrait 
€ 75,-
 I will create a beautiful double portrait of you and your friend, lover, family member or other in my own style. The focus will be on what makes you two unique and something that says a lot about you, perhaps you want to be in a funny pose, or dress up like super heroes. It's all possible! Great for gifts as well!
Custom Cartoon Emoticons
1 for 10,-         3 for € 25,-          6 for € 45
 I will create custom cartoon emoticons (stickers) of you or a person of your choosing, with the emotions of your choice. You can use them as stickers or profile pics for Whatsapp, Twitch, Facebook Viber, Telegram or print them on a mug or shirt!
DnD Custom Character Detailed Portrait
€ 40,-
I will create a custom detailed digital portrait of your Dungeon's & Dragons Character.
DnD Custom Character Full Body Design
€ 60,-
 I will create a custom detailed digital portrait of your Dungeon's & Dragons Character.
Custom Digital Portrait in Costume
€ 75,-
I will create a beautiful digital drawing of you in costume; dressed in a certain outfit, or perhaps dressed up as a certain character. Be it a Disney Prince/Princess, an Anime character, a Marvel Superhero, with your own Light Saber or as a random pirate, it's all possible!
Custom Banner/Cover Design
€ 100,- (price can be negotiated & will depend on the complexity of the design)
I will create a beautiful custom illustration tailored to your individual needs. Whether it's a website banner, a book cover, the title menu of a game, or to be printed on canvas, it's all possible!
Stephanie Smith
I commissioned a drawing of my favourite music artist from Jenny. She had it done in no time & I love it. Her work is full of character and I love the way she captures emotion & facial expressions.
Maria Mafalda
I love Jennifer´s drawings, including the one she made of me! They are vibrant and have a unique style to them, and you really feel that every drawing she makes is done with love and care.
Karina Bea
I'm so happy with the drawings Jennifer has done of me! I love getting my portrait done by her because I know it will be high quality, expressive, and unique. She can do lots of different styles and is versatile with her approach to art. I'd recommend a portrait from her to anyone, as she will capture your character in the most beautiful and flattering way possible!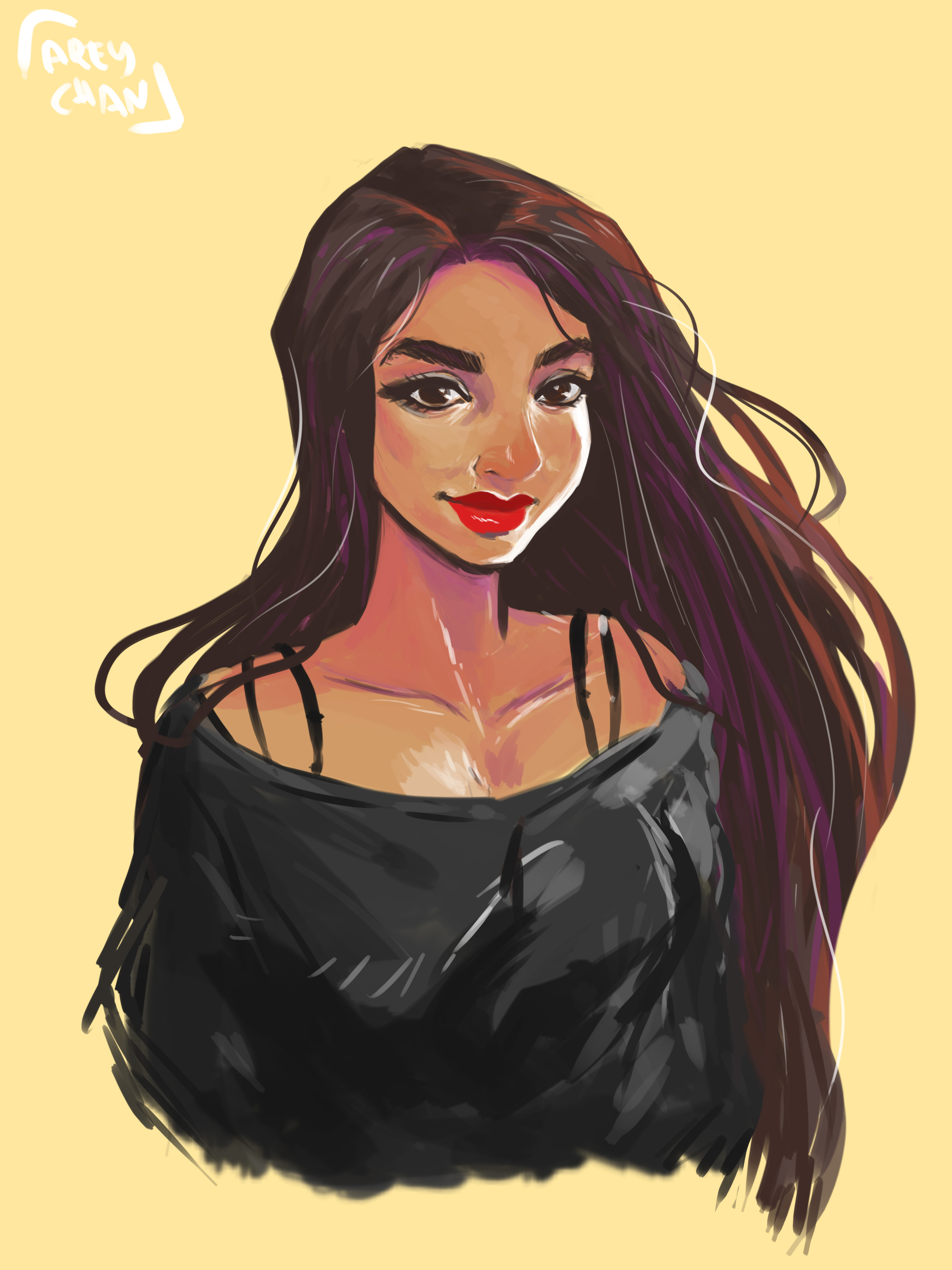 Christina
I loved Jennifer's portrait of me! When she revealed it to me, she said "I'm not too great at portraits looking exactly like the people, but this is how I see you" and to be completely honest, it was spot on! Great colours, shadows, sparkling eyes, it's like I see a better version of myself. Definitely recommended!
Ron
I'm really happy with Jennifer's drawing of me. She is quick to draw up a rough sketch if you'd like, so you have an idea of where the final result is headed. She highlights the good qualities and showers you with compliments so you leave with both a good feeling and product 
Renske
Very happy with the beautiful drawing Jennifer has made to give away to my boyfriend during Christmas 
❤️
Alex Anthopoulos
I have known Jennifer for the last two years. When I first met her she showed her artistic skills and created a beautiful drawing of both myself and my wife which in the end we got to frame. Her growth the last 2 years has been immense and I can't recommend her enough. If you are looking for something fun,nice with a great touch of humor and an impeccable design in a normal budget don't hesitate at all to use her skills.
Contact me
Is there something you would like that has not been listed here? Don't worry! I am always open to your creative ideas and desires and I love talking to people and seeing what I can do to  make them happy! Message me, or give me a call and we will make it happen!
I look forward to hearing from you!